liz kimura | October 24, 2009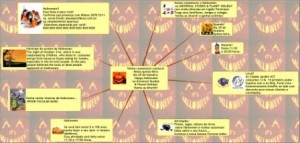 Miriam Magalhães fundou uma excepcional escola de inglês para adultos Universal Studies e para crianças Planet Holiday está organinzando um dia divertido, cultural e de grande aprendizagem sobre "Halloween – Dia das Bruxas".
Além da metodologia, ambiente e da equipe super capacitada esta escola também adota a técnica dos MAPAS MENTAIS facilitando o processo de aprendizagem de seus alunos.
O Mapa Mental acima detalha o evento que é gratuito e aproveite para conhecer esta brilhante escola!!!
EVENTO: Happy Halloween
DATA: 29/10/2009 (5a.f)
HORA: 11:30 às 20:00 hs
LOCAL: Av. Cidade Jardim, 427 conj. 13 e 14 – 1o. andar (esquina com Av. Brig. Faria Lima), São Paulo – SP
ATIVIDADES:
filmes
jogos
leitura de livros
música
Jack-o'-lantern (das 11:30 às 17:00 hs)
Fortune-telle
…muitas outras surpresas!
INSCRIÇÕES: com Milena (11) 3078-5311 ou planetprof@uol.com.br
Enjoy! And have lots of fun!!!
Close
Bookmark and Share This Page
Copy HTML:
If you like this then please subscribe to the
RSS Feed
.