Palestra GRATUITA sobre Benefícios dos Mapas Mentais no Inst. Via de Acesso
liz kimura | November 9, 2009
Na semana que vem irei ministrar uma palestra gratuita sobre os Benefícios dos Mapas Mentais nas instalações do Instituto Via de Acesso.
Aproveite para conhecer um pouco sobre esta técnica! Inscreva-se!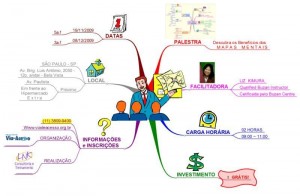 PALESTRA – DESCUBRA OS BENEFÍCIOS DOS MAPAS MENTAIS
DATA: 19 de novembro de 2009 (5ª feira)
HORA: 09:00 às 11:00 h
LOCAL: Av. Brigadeiro Luiz Antônio, 2.050 – 12o andar, São Paulo, SP (próximo à Av. Paulista)
INVESTIMENTO: grátis
INSCRIÇÕES: Instituto Via de Acesso (11) 3809-9400 ou www.viadeacesso.org.br
próxima DATA: 08 de dezembro de 2009 (3ª feira)
Close
Bookmark and Share This Page
Copy HTML:
If you like this then please subscribe to the
RSS Feed
.