06hs de cativeiro há 3 anos atrás
liz kimura | December 9, 2010
Passei a manhã de 08 de dezembro de 2007 dando aula particular de Mapas Mentais para uma analista de sistemas que me conheceu durante uma palestra que dei no final da aula de ITIL do Professor Umberto Correia do http://www.portaldotreinamento.com.br/
Como de costume, nos empolgamos com os temas abordados em aula e acabamos por atrasar o seu término. Quando saímos do elevador, tinha um rapaz nos recebendo com uma arma. Avisou que era um assalto que deveríamos colocar nossas bolsas no chão. Na hora, demorou para cair a ficha. Chegamos a pensar que era uma brincadeira, mas infelizmente estávamos no lugar errado e na hora errada!
Nossa sorte foi sermos assaltadas por profissionais, pois era incrível a organização deles!  Na realidade, não queriam nenhum refém, no entanto, caso houvesse, já havia um responsável para essa tarefa.
Ficamos seis horas em cativeiro, no início foi no porão. Lá conversando com o nosso carcereiro, tentei entender o que estava acontecendo.  Expliquei que o banco, localizado no térreo, ainda estava em reforma, por isso, não deveria ter dinheiro algum. A resposta que recebi foi que o objetivo deles era arrombar dois cofres daquele edifícil.  E que tudo que deveríamos fazer era esperar.
Como sou bacharel em Direito, pensei comigo… quando o serviço deles acabar e formos libertados, na realidade, não terá acabado, pois teremos que ir para delegacia e contar o ocorrido. A partir desse momento comecei a prestar atenção em tudo que acontecia.
Quando saímos do cativeiro, felizmente, não roubaram meu bloquinho de papel nem minhas canetinhas coloridas, por isso, a primeira coisa que eu fiz foi montar este mapa mental: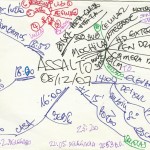 Para minha frustração, quando dei meu depoimento na delegacia, o delegado não me perguntou nada sobre o que havia acontecido. Ele apenas perguntou o que foi subtraído. E eu respondi "mochila", então perguntou "o que havia em sua mochila?". Tudo que eu fiz foi olhar para meu mapa mental e ler o tronco "mochila" e falei: "celular, notebook, HD externo, pen drive, câmera digital, Palm, teclado dobrável, mouse sem fio, Hub USB…"
Eu perguntei qual era o nível de detalhamento que ele gostaria de saber "marca? modelo? capacidade de memória? …os softwares que estavam instalados? …snif …snif"
Fiz, inclusive, um mapa mental do nosso carcereiro chamado Douglas, que morava no Tatuapé e tinha estudado até o 2o. grau numa escola pública do Itaim.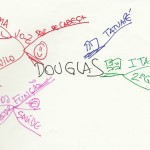 É uma experiência que não desejo repetir.
Close
Bookmark and Share This Page
Copy HTML:
If you like this then please subscribe to the
RSS Feed
.